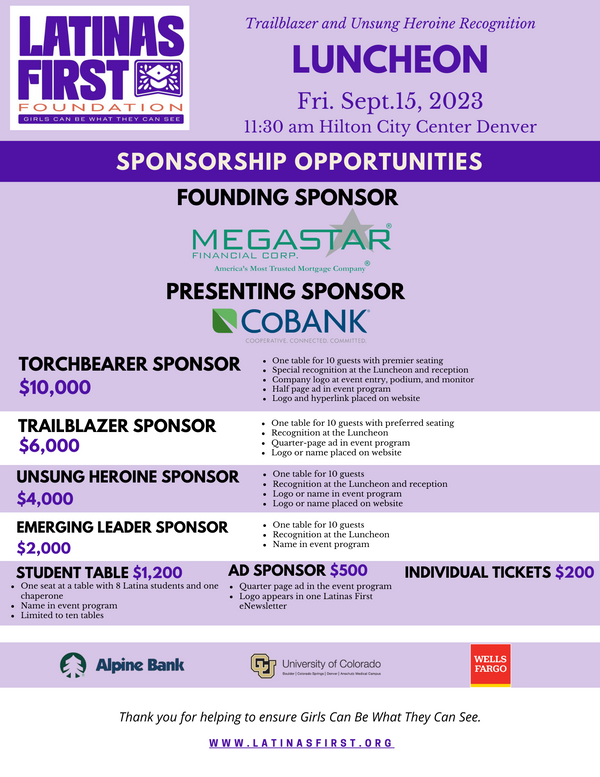 Please join us as we recognize our community colleagues, comadres, and college students from Colorado who have put in countless hours of dedication to become the first in their industry, the first in their communities, and often the first in their families to go to college. We will hear the stories that instill pride, confidence, and strength at women celebrating and supporting other women.

By sponsoring and attending the Luncheon you become an obvious partner committed to strengthening our Latina community and giving our current and next generation the opportunity to come together to be inspired. Your presence is both empowering and important for an emerging generation of leaders to recognize that Girls Can Be What They Can See.
12th Annual Latinas First Foundation
Trailblazer and Unsung Heroine Recognition Celebration
 Friday, September 15, 2023
Hilton City Center Denver 1701 California St.
11:30-1:30
Registration begins at 11:00
Latinas First Foundation is able to support our students only by the grace of our community support. If you are unable to attend the Luncheon and would prefer to donate a scholarship directly, please email lauren@latinasfirst.org.

FOUNDING SPONSOR: MegaStar Financial    
PRESENTING SPONSOR: CoBank 
TORCHBEAREARER SPONSORS: Alpine Bank, University of Colorado, Wells Fargo

Presenting Sponsor: $25,000

One premium table placement for 10 guests

One host table for 9 Latina students and one chaperone
Special recognition at the Luncheon and reception
Company logo at event entry, podium, and monitor throughout the event
Opportunity to distribute company logo on collateral to guests at registration
Full-page ad in the printed program
Promotion in our eNewsletter to more than 2500 subscribers
Logo and hyperlink placed on Latinas First website
Torchbearer Sponsor: $10,000

One table for 10 guests with premier seating

Special recognition at the Luncheon and reception

Company logo at event entry, podium, and monitor

Half page ad in event program

Logo and hyperlink placed on website
Trailblazer Sponsor: $6,000
One table for 10 guests with preferred seating

Recognition at the Luncheon 

Quarter-page ad in event program

Logo or name placed on website
Unsung Heroine Sponsor: $4,000
One table for 10 guests

Recognition at the Luncheon and reception

Logo or name in event program

Logo or name placed on website
Emerging Leader Sponsor: $2,000
One table for 10 guests

Recognition at the Luncheon 

Name in event program
Student Table: $1,200
One seat at a table with 8 Latina students and one chaperone

Name in event program

Limited to ten tables
Ad Sponsor: $500
Quarter page ad in the event program

Logo appears in one Latinas First eNewsletter
Individual Tickets: $200